Our Daughter Megan Absalom-Lowe was born a premature baby who also had to undergo lifesaving heart surgery.
Megan is now nearly 4 years old (in February 2015) and her bright, happy demeanour gives no clue to the traumatic start to her young life which began six weeks prematurely in February 2011 due to Pregnancy related Problems.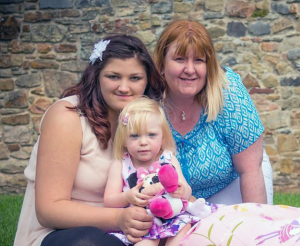 Megan was born in Singleton Hospital Swansea, a SCBU slot was saved for her, but due to an emergency taking my theatre slot and the Last cot that was saved for her In SCBU, she had to be whisked away to Glangwilli Hospital SCBU by CHANTS (Cymru Inter Hospital Neonatal Transfer Service who I had never heard of or knew anything until my experience ), While I was still on the operating table. I had to wait until the next day to see my first child and I really can't thank the Maternity ward and Theatre Staff enough at Singleton, They were outstanding!
We then had to travel back and forth to visit her in Glangwili, until there was room back at withybush SCBU , she was again transported back by CHANTS, but it was another four weeks before she went home end of March 2011.
Doctors found a hole in Megan's heart and a narrowed Pulmonary artery and we had to prepare for major open heart surgery which took place in October 2011 at Bristol Royal Children's Hospital.
"The waiting and the unknown was the hardest, We had to say our goodbyes at The operating table because we didn't know if we were going to see her again, it's was a very hard and stressful time for both mark and I, Megan was in intensive care on a heart and lung ventilator for four days, but All the medical staff were absolutely brilliant at The Bristol Children's Hospital.
This is not the first time my husband Mark has had to watch his child undergo surgery -his 14-year-old daughter (15 years old on boxing day) Shennagh Smith-Lowe also had open heart surgery at Birmingham Hospital over 12 years ago when she was 10-months-old and found she had mitral valve Regurgitation.
The sisters have proved themselves to be little fighters – and doctors on both occasions said recovery would take 10 to 14 days but both were home within 7 days.
They will both again have to face surgery in the future but both girls have shown how brave and strong they can be. "It's just amazing what a child can go though and how strong and brave they are".
During this time, financially we struggled with the extra costs we had, Transport costs, food, accommodation, we would have been even worse financially and We really can't Thank The Leon Heart fund enough who partially helped us financially with a grant! We are so greatful for your help and really wish we had the chance to meet your Son Leon.
Thank you So Much
Mark Lowe, Amanda & Megan Absalom Lowe & Shennagh Smith-Lowe