Jay's heart journey started before he was born.
It's was when I was pregnant with Jay during the 20 week scan we had in Port Talbot hospital. The midwife said that she was unable to see his heart properly and that we needed to go to Cardiff hospital for a more detailed scan.
We then attended Cardiff hospital, where we were given the news that Jays heart had not formed properly and he had tricuspid atresia and pulmonary atresia and that he would be ok until he was born and that he would require surgery to survive. We were absolutely devastated.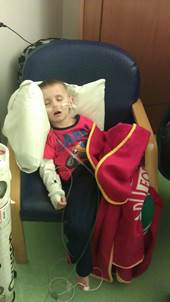 The team at Cardiff where amazing at supporting us, explaining what surgeries Jay would have when he was born. They sent us to Bristol Children hospital to see where Jay would have his operation and what machines he would be attached to, so that we would be as prepared as possible for his arrival. They then decided I would be induced at 37 weeks at St Michaels hospital in Bristol, but the day before we were going to be induced, I went into labour and Jay ended up being born on 25 June 2007 in Bridgend hospital. After Jay was born he was taken straight away with the doctors, we were given a photo of him and later I was put in a wheelchair to go and say goodbye as his transport had turned up, Jay had an ambulance and a police escort to Bristol Children hospital.
The next day we went to Bristol Children hospital were we got to see Jay and hold him for the first time, he was perfect!
But now the scary part had arrived he was finally ready for his first surgery called a bt shunt at 7 days old. We were told that Jay would only have a 60 percent chance of surviving the operation but wouldn't survive without it. Jay was a little fighter and came through the surgery amazing, his only problem was he would get too tired and couldn't feed so he needed a NG tube and a higher calorie milk as he struggled to put on weight. When Jay was in hospital we learned how to look after him and give his medications and feed him with his NG tube after a while he was strong enough to move from Bristol Children hospital to Cardiff hospital, this was amazing news and a step closer to home, a week later we were transferred to Bridgend after the doctors where happy that he was doing amazing from cardiac point. Once he had his weight gain under control he was finally aloud home!
We had 10 months with Jay, while attending cardiac appointments before the test showed Jay was ready for his second surgery, the Glenn shunt. We got packed and got ready to hand our baby over to the doctors again, even though his surgery went smoothly, Jay had complications after he had a collapsed lung and needed to go back on the ventilator a little longer but he quickly bounced back and the nurses loved coming to see him as he always had a smile for them.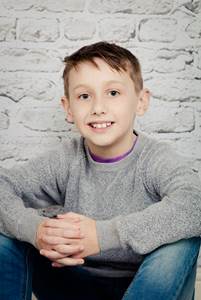 Jay then got to start school but he struggled with so much as he would get so tired, after a few years past, Jay was now 5, it finally came time for Jay to have his last surgery the Fontan, we had meetings with cardiac nurses to learn about the new medication Jay would be on and how to work the his INR machine to monitor his blood at home as he was going to be put on Warfarin after the surgery. The time soon came and again we were in Bristol Children hospital, this time surgery took longer than they thought as his scar tissue from the previous surgery had become difficult to cut through, but seeing Jay after his surgery this time was amazing it was the first time our little boy had pink lips, fingers and toes and looked normal. Jay took a while to recover he had nerve damage to his diaphragm from his operation and ended up needing physiotherapy on his chest, he did so amazing and didn't complain about anything, at the age of 5 when it came to blood tests Jay could hold his arm out and the let the nurses get on with the test, he was so brave with everything.
Bristol Children hospital we amazing in the care they give Jay while having his operations, Jay is now 10 years old and doing amazing, we don't know what the future holds for Jay as surgically they've done all they can for him but Cardiff staff have been amazing at looking after him.
Jay now has amazing support from the Leon Heart Fund who help bring a smile to his face on even the hardest days and we couldn't thank them enough x